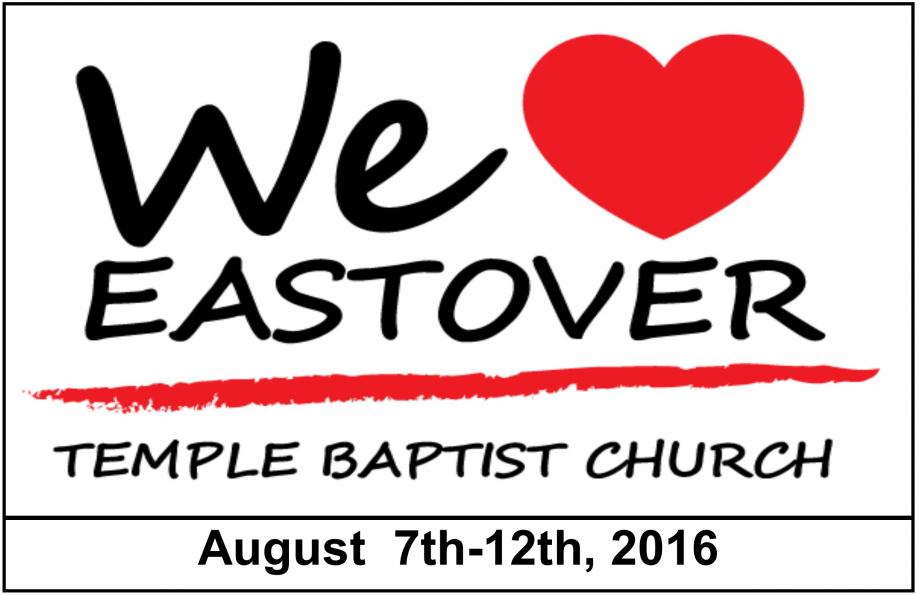 Join us for an exciting week of ministry and service to our Eastover community! Below you will see opportunities for you and your family to serve througout the week. We hope you will join us in 1 or more of these ministry opporunities . . .
Sunday, Aug. 7th - Community Block Party @ 5:30pm at Eastover Community Building & Park
This will be a kick-off event to our "We Heart Eastover" week of ministry, hosted by participating churches of Eastover. There will be hot dogs, popcorn, snow cones, inflatables, games, & music.

Monday, Aug. 8th - Casserole Ministry - Point Person is Lavetta Spain
Our church will be preparing and delivering frozen casseroles to shut-in members of our church, as well as our community. If you are able to donate a casserole, please contact Lavetta Spain at 323-1719. Also, if you know someone whom we could bless with receiving a casserole, please share the name and contact info with Lavetta as well. All casseroles should be received to the church building by 5pm on Monday and volunteers will be needed to deliver the meals at 5:30pm.
Tuesday, August 9th - Armstrong Elementary School Service Project (4pm)
On Tuesday at 4pm we will be doing yard work around Armstrong Elementary School. For more details, please contact
Randy Hendrix at 910-705-0507 or Dan Morasse at 910-391-1530.
Wednesday, Aug. 10th - KIDS Ministry Visiting Bethesda Nursing Home (5:30pm at TBC) - Point Person is Pastor Wesley Scoggins
Our children's ministry (K-5th grade) will be making cards on Sunday, Aug. 7, which will be delivered to the residents of Bethesda Nursing Home on Wednesday night. Kids and parents wishing to make the visit to Bethesda on Wednesday should meet at the church at 5:30pm and be ready to leave the church by 5:45pm. After our time at Bethesda we will join everyone for the community prayer walk (see below).
Wednesday, Aug. 10th - Community Prayer Walk at 6:30pm (Starts at the Eastover Community Building)
The participating churches of Eastover will join together for a special pray walk through Eastover. We will meet at 6:30pm at the Eastover Community Building and begin our prayer walk. Please wear your "We Heart Eastover" t-shirts!
Thursday, Aug. 11th - Laundromat Ministry (All day) - Point Person is Jeremy Willis
In each Sunday School classroom there is a small coin collection container. Please help us by bringing in coins, which will be used at our Laundromat Ministry. We will be visiting local laundromat's, paying for customers laundry, helping them wash, dry, and fold. Our desire is to open doors for gospel conversations and prayer with those whom we can serve. For more details, please contact Jeremy Willis at 740-444-3616.
Thursday, Aug. 11th - Dinner for Eastover Fire Department (Time TBD) - Point Person is Michelle Morasse
We will be serving dinner to the men and women of the Eastover Fire Department. If you are interested in helping prepare dinner and/or deliver the meals. For more details, please contact Michelle Morasse at 910-391-7704.
Friday, Aug. 12th - Mobile Clothes Closet (9am to noon) - Point Person is Jennifer Manchester
Our Temple Cares Ministry will be hosting a mobile clothes closet! We will load clothes onto a trailer and deliver them to the homeless throughout our city. For more details, please contact Jennifer Manchester at 910-988-3591.
Friday, Aug. 12th at 7pm - Rally & Meal Packing Event for 15K meals (7pm @ Salem UMC Family Life Center - All churches participating))
We will be having an end of the week rally on Friday night. We will have music from our Temple band and praise team and hear testimonies from our week of ministry. We will also be partnering with Food Aid International to pack 15,000 meals for those in need. We will receive a special love offering on Sunday, Aug. 7, during our morning worship service to help cover the cost of these meals.
Sunday, Aug. 14th at 11am - Canned Food Drive to Restock Temple Cares
We are asking you to being non-perishable food items to help restock our Temple Cares Food Pantry. You may bring food items on Sunday morning and drop them at the designated areas throughout our building.
TO REGISTER FOR ONE OR MORE OF THESE PROJECTS, PLEASE CLICK HERE!