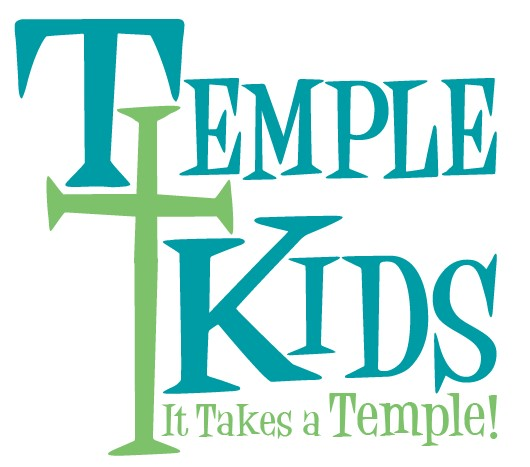 Welcome to our Temple Kids page!
You've probably heard the phrase "It takes a village to raise a child." We have taken that a step further to say that "It Takes a Temple" to raise Temple Kids! That means we believe that all participants—volunteers, staff, and families—play a part and work together for the goal of helping children become more like Christ! Speaking of goals, here is our mission statement which captures the essence of what we do:
Glorifying God by Engaging, Encouraging, Educating, and Equipping Kids to be Followers of Jesus!
Temple Kids ministry seeks to disciple kids and families by:
Engaging kids by connecting with them on a personal level in a safe and welcoming environment
Encouraging kids by rewarding good behavior and inspiring them to be their best
Educating kids by teaching them about God, His Word, and the Gospel in a way they can understand
Equipping kids by giving them practical application from God's Word for everyday life
Childhood is a beautiful gift from God that lasts a short time. We believe this is a window of opportunity to pour God's Word into the lives of children so that they may hear the Gospel, respond in repentance and faith, and live the life that God has envisioned for them. We pray that as a parent you would choose to partner with us in leading your child to be a passionate follower of Jesus.
Here are some Temple Kids opportunities for your kids to be a part of!
CHILDREN'S CHURCH

On Sunday mornings at 11:00am, we offer breakout teaching sessions designed for children PreK-5th grade. We use Bible Studies for Life as our teaching material, which is filled with games, songs, and practical applications for kids of all ages! Your kids will have a blast learning God's Word in a fun and exciting environment!
The GOSPEL Project

Wednesday nights at 6:30pm is an opportunity for kids K-5th grade to learn that the Bible is one big story! The GOSPEL Project is an interactive curriculum that shows that the Gospel (the Good News about Jesus) runs through every part of the Bible. They'll enjoy crafts, games, and more as they learn about the Big Picture of God's Story!
BIBLE DRILL

Kids 3rd-5th grade can take part in preparing for Bible Drills—a friendly competition where kids show their skills in learning books, verses, and passages of the Bible. It's a fun way to gain huge amounts of Bible knowledge and kids can compete on the local, associational, and regional levels! Practice sessions are Wednesday nights at 6:30pm!
If you have any questions concerning this ministry, please contact Pastor Trent Haywood at the church office or at trent@templebaptistfay.com
Thank you for visiting our page! We hope to see you soon!